---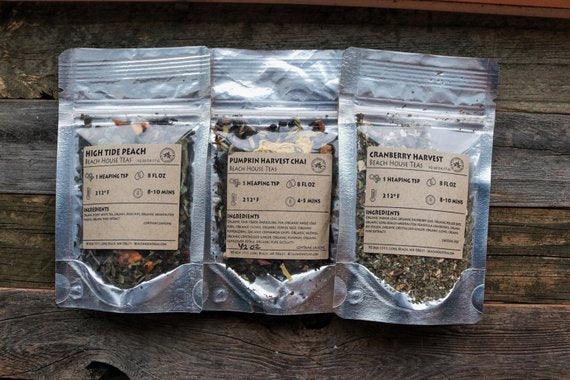 This loose leaf tea set includes three artisan blends for those that say Autumn is in the air and it's harvest time! Gather up the cranberries, peaches, and pumpkins in these aromatic blends that not only kick up the smells but the visual appeal as well. All in a muslin pouch with Beach House Teas hand-stamped logo. 

Each blend is 1/2 oz of tea sealed in a resealable pouch. At Beach House Teas we take great care to the package. All our tea-infused products are carefully crafted in small batches and immediately sealed in their containers. 
Tea Blends
Peninsula Harvest loose leaf tea is crafted with real organic cranberries from the Long Beach Washington Peninsula, organic raspberry, and papaya leaf, with a kick of spicy from organic cloves and ginger. All this with just a sweet hint of honey from organic bee pollen. The tea's visual color palette is reminiscent of the harvest of cranberries in the fall. 
Ingredients
• Organic Raspberry Leaf
• Organic Papaya Leaf
• Organic Rolled Oats
• Organic Long Beach Washington Cranberries
• Organic Bee Pollen
• Organic Crystallized Ginger
• Organic Cloves
• Organic Pure Extracts
Pumpkin Harvest Chai is a spicy aromatic complexity treat for the senses. The savory notes of organic peppercorns, organic Darjeeling, other spices, and even pieces of organic Washington pumpkin give way to thoughts of walking through pumpkin patches looking for the perfect one. Add milk, sugar, or honey for a comforting cuppa.
Ingredients
• Organic Kosher Fair Trade Certified Darjeeling Tea
• Organic Anise Star Pods
• Organic Cloves
• Organic Fennel seed
• Organic Peppercorns
• Organic Cinnamon Chips
• Organic Nutmeg
• Organic Crystallized Ginger
• Organic Pumpkin
• Organic Sunflower Petals
• Organic Pure Extracts
High Tide Beach is 100% organic loose leaf tea and crafted with organic peony white tea, rose hips, and sweetened with organic Washington peaches. It's tasty hot or cold or brewed strong to infuse your favorite cocktail. 
Ingredients
• Organic Peony White Tea
• Organic Rose Hips
• Organic Washington Peaches
• Organic Pure Extracts